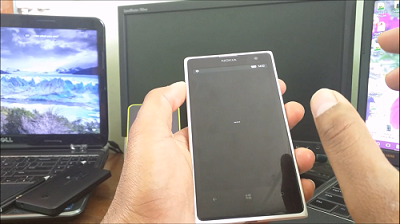 Windows phone is always known to be very silky as smooth, but i slowly changing mind by not what I am experiencing but I am seeing and looking on that facts too. Being a software professional I am very aware of software development stages and life cycle whether it is a couple of line of code for a tool or a big OS design and development. Here we are talking about windows 10 Mobile. If have already read one of my earlier post here I have described in short the story of lumia 1020 running windows 10 mobile for over 9 months and windows 10 mobile is out there for almost an year now. I am sure it would have been started some 2 years back atleast to my software experience. No wonder if it is 3 years too. I am just thinking how much time does it still needs to get OS atleast in working stage so that peoples can actually use it with some issue only. You can read the web with lots of problem with lumia flagships 950/950 XL. Most of the top reviewers even are  not recommending it to buy. You can check the youtube also for many videos reviews. Atleast Microsoft can tell us how much time they need more to get a stable build. So let me tell you what exactly it is now. First try to make and idea by looking at the picture above then see later it comes to be. With my previous post I mentioned about my lumia 1020 freeze and OS corruption issue. Most of the major issues can be solved by resetting the phone. So here also I did tried to reset again and with some time it was done.  Now the problem I faced with the first boot are,
phone is not able to restore my back and stuck at 29% even on LTE connection.
I did lost of my messages many of them atleast and the filming that I have done to post many of the video on my youtube channel.
I noticed too my button are vibrating on pressing. Thats wired coz I felt the same a 4 months back. But it is still here.
Windows 10 by default is not enabling vibration on key press so something is wrong for sure. I went to settings and extras to see he touch configuration.I checked the touch options and found below,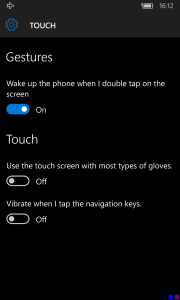 I know this will be there as I said I did found this 4 months back on my lumia 640 XL. But the point is the bug is still there ???????
OK so I tried to enable the option, "Vibrate when I tap the navigation keys" and see here what happens. As expected a restart needed as shown below,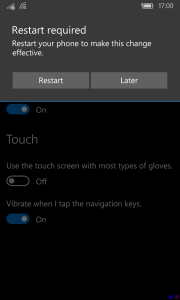 just pressed the restart option and see below what happens next, This is the same screenshot I shown you above and asked what is that ? So now you have idea on what it is. I am going to reset the phone for now as of now, may be next build could do a new installation and hopefully issues will get fixed too. But I am sure I will see that again one day :(.
You can watch the demo video on YouTube below,
https://www.youtube.com/watch?v=87XxfrqtFRE
Thats it for this post for now. you can tweet me ask any windows phone/windows 10 mobile related queries.
Stay tuned to @WindowsLatest for latest windows stuffs coverage.