Finally Microsoft has rolled out another long awaited insider preview build to fast ring. As expected its just another cumulative update with some major fixes we can say. Indeed it is also a correct way to get the OS a positive review. As compared to previous updates Microsoft has listed out the major fixes that has been fixed apart from internal fixes that should have been happened.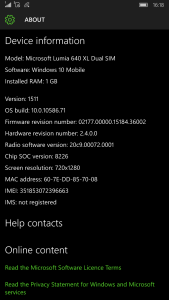 Microsoft has also published a change log for the current build. You can read the details in our earlier post here. [link]
We installed the latest build on two of the handset,
1. Lumia 640 XL
2. Lumia 1020
Here are the observations from us
FIRST IMPRESSION
This time we are truly impressed with the performance of the of both the device especially the lumia 1020, which we found two be not good as it should considering it has 2 GB of RAM but sadly the processor doesn't seem to giving him much help. But over all lumia 1020 and 640 XL both work very smooth now, especially lumia 640 XL.
PERFORMANCE TEST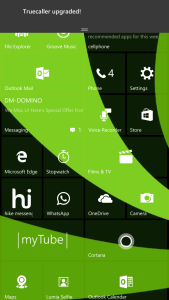 We randomly opened many apps just to check how fast the apps can open starting from very light apps like
– File Explorer
– Phone
– Store
– Camera
then to some heavy apps like
– Word
– Excel
– Adobe Reader
– One Drive
OS seems to handle very well all these apps. When checked for multitasking between the apps it was also smooth. While there couple of issues here we will point that later in the post.
APPS AND GAMES REVIEW
We also did some of typing on the word, and also watch a video clips on Film & TV app. 640 XL works very fine on that too and following lumia 1020 it also handles app very well. the 640 XL, big screen looks very awesome to watch videos and YouTube surfing using Microsoft Edge. Multi tab windows works very smooth now, even switching between tabs is very fast. Loading time for edge is also good now and page handling is also smooth.Pinch and zoom handles very perfectly.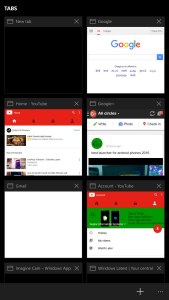 As usual whats app takes a little time in loading up and hike messenger opened very quickly. Its now for playing heavy games like Asphalt 8 Airborne. Our previous builds running on lumia 640 XL ran Asphalt 8 very well except a few frame drops, we can count the drop as 2/10, but in the case of lumia 1020 the frame drop rate is bit more. But once the game started off there were no lags at all. We are still playing some other games and will come with another review very soon. Let us know in the comment which games you would like to see in the coming reviews.
Lets talk about the camera. Windows camera now is the only camera app and it loads very faster as usual. As the rich capture is now supported in 640 XL but not in the lumia 1020, but we are not able to edit the file using rich capture in 640 XL on our unit, or readers has mixed review on that too. For some it is working for some it is not. We will try to find a solution in that case.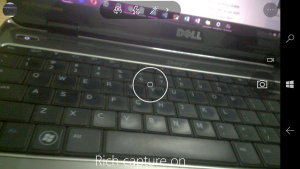 SD card issue has been solved. If you don't know about it then, we will explain. If your phone supports SD card then you can set that as a default storage location for Games/Apps/Pictures etc. If you go to "Settings > System > Storage"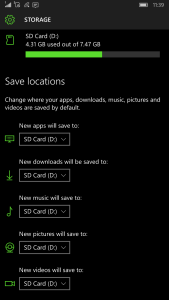 and
click on SD card you will see option to remove the SD card. If you do so then the default location will get set to Device again.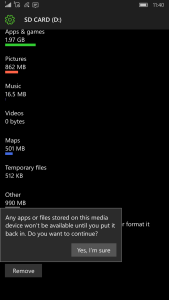 FINAL VERDICT
Coming to final impression we can say that overall the windows 10 mobile is getting stable now and it is good time to update your phone with windows 10 mobile. If you like to go with the final OTA update you may need to wait for some time otherwise you can choose the insider program to get the current build.
Now lets talk about the some of the bugs that we have,
1. The battery saver option shoes some of the app icon missing when checking under battery saver setting. You can see so by going to "Settings > Systems > Battery Saver > Battery Use > Change Background App Setting". As you can see in the below image.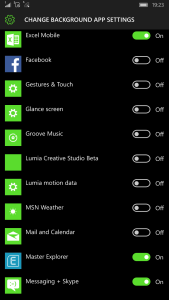 2. On using the task manager or app switch button you can see that start menu still has icon missing.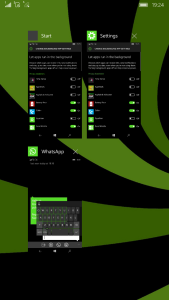 3. Lumia 1020 storage app shows wrong live tile information.
4 We also did noticed sometimes that store shows live tile information while we have turned off the live tile information in store.
5. There is quick bug in phone app. In short here it is, if suppose you have stored a number with name ABC and the number is +9188266XXXXX and if you are dialing the number +91888266XXXXX, which is wrong and as the number is 11 digit and that depends on network operator which is obvious. If you dial this number it will sow the name as ABC even though it is not stored in any contact.
6. Rich captured image is not editable again using rich capture edit.
these are few of the bugs we are just pointing out. We still have found out few others and need to do a deep test before putting in front of you.
We are making our deep review in draft and will soon make another post on that. Stay tuned and do let us know in comments if you have any problem in your current device running latest build let us know we will try to add more on that.
As again thanks for reading.