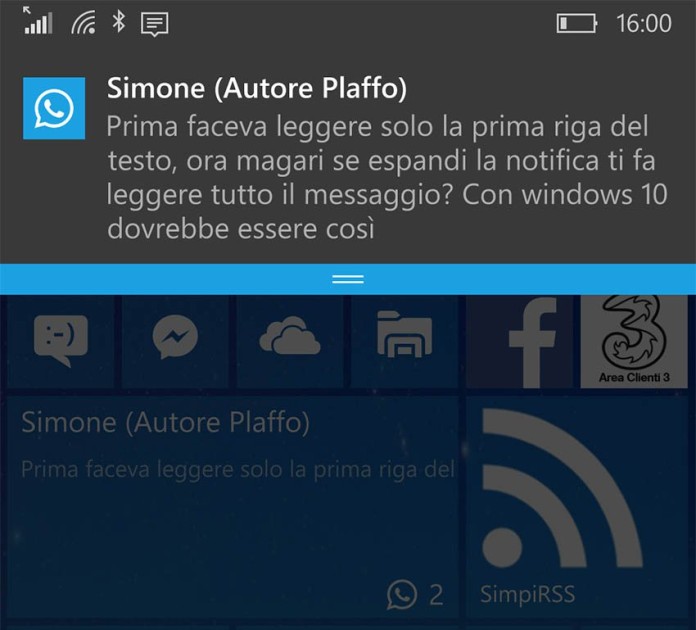 WhatsApp, the cross-platform messaging app is rolling out another update for their private beta testers in Windows Phone Store. The updated version of WhatsApp Beta is 2.12.264 and it comes with some new features to amaze Windows 10 Mobile users.
The update doesn't bring new UI for WhatsApp beta app, but it comes with noticeable improvements. As per reports, the update allows WhatsApp to use some parts of interactive notifications available in Windows 10 Mobile.
You'll notice that the toast notifications are now expandable, so you can finally preview a part of the message. However, it also depends on the text or media included in the WhatsApp messages.
Along with interactive notifications beta, the update also allows WhatsApp beta users to read the messages from Action Center, but you cannot reply directly from the Action Center.
Earlier this month, WhatsApp beta received a small update with new emoji. This new feature has been released to all platforms including Android and iOS. Developers are currently testing new emojis for WhatsApp in the beta version and the changes will be rolled out to all users soon.
For those uninitiated, WhatsApp also received an update earlier this month that reduced the loading or resuming screen on some devices. The first update of the month was designed to improve the start-up speed so that users won't have to wait for the application to load.
It's also important to note that WhatsApp Beta for Windows Phone is not available for everyone and only those who have been admitted into the beta program can grab this update. Other users have to wait for a couple of weeks until the newest improvements and features are also released to the stable version.
WhatsApp is also working on several other improvements for the messaging app on Windows 10 Mobile. In the near future, you can expect WhatsApp to gain more native features.